As I've been working on editing "Drawing Battle Lines" I came to chapter nine where a particularly intriguing character (from my position) came to exist. What happened, when I first came up with this character slot, was that I needed a personality that would fit in the role. This had to be someone who would work opposite the stiff-mannered Captain Justin Brand (you can find him in "
The Past Repeated
"). There is a chapter, earlier on, that depicts a meeting between Brand and Minister of Peace Anat Meron (who also appears in "
The Past Repeated
"). While Meron is far more formal than Brand, both characters have a deep loyalty and patriotism, as well as a slightly more stiff and to-the-point manner. Justin is actually fairly comfortable in this meeting, more so than with any other non-military person that he had spoken with. Funny enough, it makes me think of the episode where S
heldon and Leonard's mother meet
and become friends on
The Big Bang Theory
. And, if you thought I was mentioning the scene where they kiss,
well here's that video
.
Getting back on track again, the fact is that I needed someone who would be a good comparison to the Meron/Brand conversation. As comfortable with the Minister of Peace as Brand is, so uncomfortable would he need to be with a similarly powerful Olympus Union delegate. Almost perfect that I happened to be writing where a friend was near by. As such, Miss Danielle Abbate enters the world of the Olympus Union. For those who trip over the pronunciation, it's "Ah bah tay". You'll notice no title is presented... Justin notices this as well, because she specifically doesn't demand one to be used. She prefers to refer to him as "Justin" instead of his honorific, as the Minister does, even though she'll use it sparingly. The trick to writing the encounter, however, is understanding how the real life person would handle the situation. Danielle is, thus, written as a bit more friendly and casual, although incredibly shrewd. She's happy to talk to you and be your friend, but has absolutely no issue with stomping on someone who is getting too far out of line.
It's important to note that I certainly take some poetic license here. Miss Abbate takes a little extra pleasure in tweaking Brand when she realizes that he seems unwilling to react to certain comments. While far from sadistic, she purposely crafts a cute and sweet exterior to mask a more fun and wicked personality. Of course, the telling moments will be when the person that this character is based off of lets me know what she actually thinks. Then, we'll have to see if changes are mandated... or if I'll get stomped by the real life person.
* * * * * * *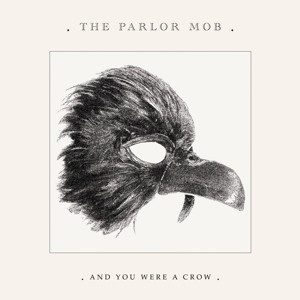 Only partially related is the fact that I've actually been listening to the band
The Parlor Mob
while writing lately. They aren't the only band that I've been listening to, of course, but they've made the leap into my playlist a lot more often these days. Thanks to my
Zune
player (and software), and in part to lovely folks at
Pandora
, they became a very pleasant discovery. If you listen, you can definitely can sense some similarities to
Wolfmother
(whether it was intentional or not). I'm officially plunking down the cash to purchase their album "
And You Were a Crow
" and suggest that you do so as well.