In my life, there have been a lot of books and short stories to read, many web posts, ebooks and short stories written. Throughout that time, I've never been overly worried about twists and turns in a book. Not when I'm writing, and certainly not while I've been reading. Is that a big deal to you? I'm a little curious.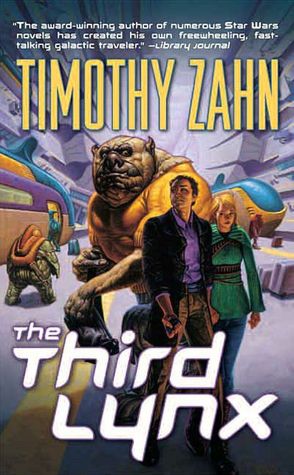 When I'm reading a book, an unexpected twist can be a nice addition, but it's never been a must for me. Never, in all of my days, have I finished a novel and thought to myself, "Well, that was just way too straightforward!" Not even once. Don't get me wrong, when I was reading Timothy Zahn's
Frank Compton series
they were pretty fun! The second book, "
The Third Lynx
" had a few spots that threw me for a loop, I'll be happy to tell you. Zahn didn't need to do that, though. Learning about the universe that he's created, the races that he's invented, and the nature of everything going on around the characters was more than interesting enough. I didn't need anything overly manufactured to try and make me think, "Oh wow! I never saw that one coming!!" Perhaps it's just the strength of the story teller.
So, then you had
The Hunger Games
. After getting pressed from a number of different angles about how I
had
to read the series, I finally broke down and did so. Listen, it's not a bad series. Having read a great deal of science fiction in my life, and being a huge fan of the post apocalyptic sub-genre, this wasn't bad at all. You've definitely got some elements of "
The Lottery
" by Shirley Jackson... and, as it was pointed out to me, Stephen King's "
The Running Man
" (the book, not Arnie's movie) sent shadows into large portions as well. Still, it was a good enough story. Not bad for something that, as I understand it, was meant for teen readers. What bugged me, however, was that all three books intentionally
tried
to push twists and turns on the reader. Instead of being shocked (most of the time, it came off as predictable), some of the elements felt forced, and in one case, a little cheap. That's definitely a risk you run.
For the most part, in my books, I don't look to add any intentional twists and turns. My goal, when I set out, is to just tell a story. I've got no need to shock or surprise, just to tell a story. If it happens, hey great: happy accident! Nothing is going to get forced, though. It's hard enough to tell a quality story without manufacturing shock value. If it doesn't have value to the story (or to the next part of the story) then it doesn't need to be written. Everything - even the Jeremy Hunter references - has a point to some part of the story, somewhere down the line. My feeling is that, if the story is good enough, it will carry itself. Hopefully, you feel that my stories are good enough to carry without intentional twists and turns and shocks.